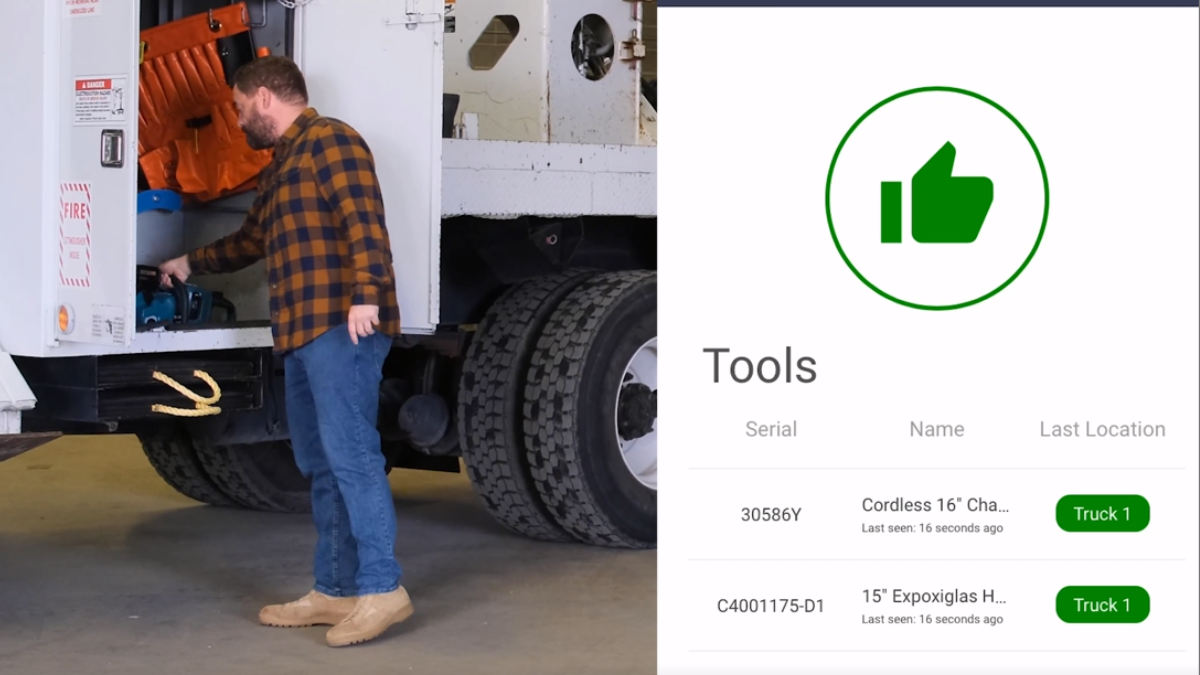 ItemAware – Inventory Management Made Easy
You may have heard us talk about ItemAware but do you know how our intuitive, modern software can help you keep track of your "things" while allowing you the freedom to focus on your job at hand? Let our cutting-edge software take the headache out of inventory management.
Better yet, ItemAware doesn't just stop at asset tracking and item management. Our innovative technology takes the stress out of compliance, prioritizes worker safety, and eliminates time spent searching for your most important equipment. Read more below about the features ItemAware can offer you including keeping detailed compliance records, real-time tool tracking, and more.
Compliance
Preserve worker safety and remain OSHA compliant with calibration, maintenance, and inspection due dates tracked conveniently within our software.
Keeping track of maintenance records coupled with inspection dates can be a job all of its own. Setup alert reminders in ItemAware to ensure that you never miss a compliance deadline again.
Worker compensation settlements are both costly and time consuming. According to the Ohio Bureau of Workers' Compensation, "approximately 15 percent of the Ohio workers' compensation claims among workers in the utilities industry result in losing eight days or more from work and cost an average of $46,000". Your cost of doing business should not include a costly settlement. Keep your workers safe and protect your bottom line by using our software to stay up to date on all important maintenance needs.
ItemAware offers more than just maintenance tracking. Review the graphic below to learn more about the additional compliance benefits of ItemAware.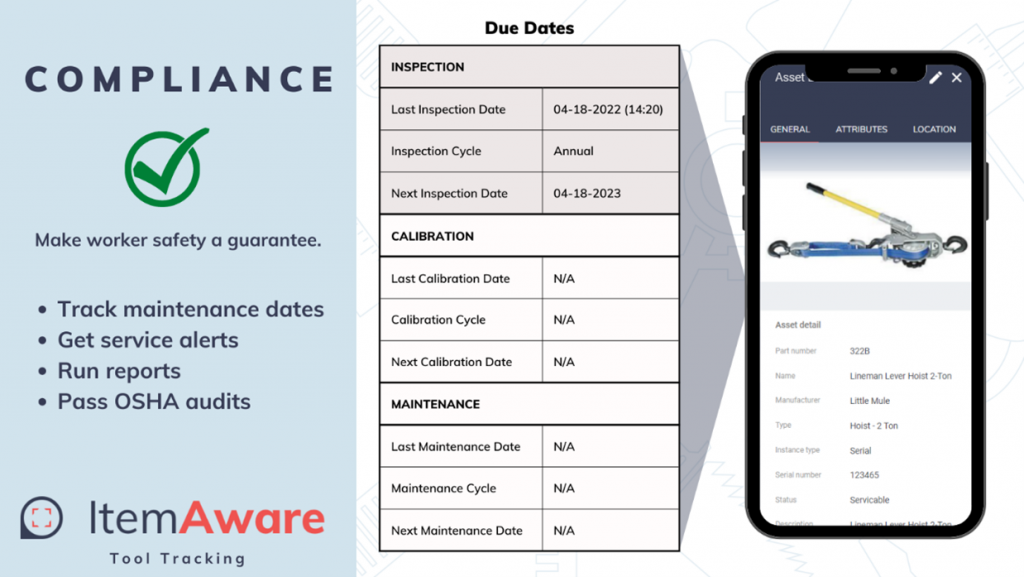 Failure to remain OSHA compliant can result in significant financial penalties as well as unwanted legal issues for your company. Prevent these fines while simultaneously prioritizing worker safety by allowing ItemAware to keep detailed inspection records for you.
Map View
With ItemAware, you will have a map view of all assets and their exact location. This feature allows you to drill down into each individual truck to see your equipment. At the touch of a finger, our software gives you the confidence to know right where your tools are exactly when you need them whenever, wherever you are.
The graphic below shows you how easy it is to view the location of your tools and trucks. Additionally, users can quickly glance at their mobile device and know if they have all items (green thumbs up), if an item is in the wrong location (orange thumbs up), or if any items are missing (red thumbs down).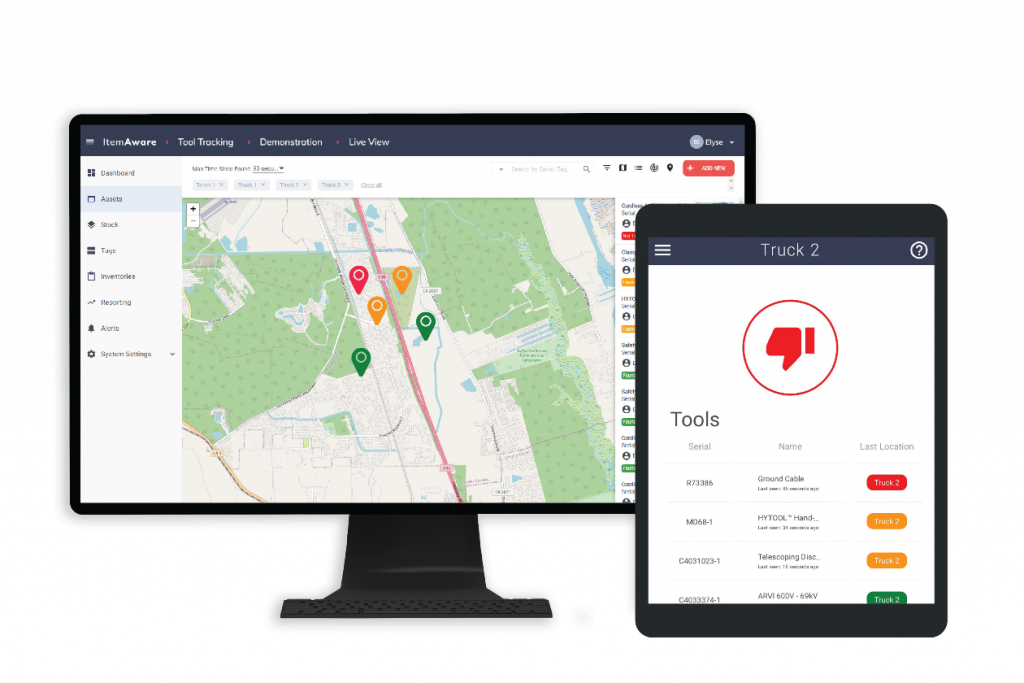 ItemAware also makes your tools fully traceable and visible to you around the clock. Did you know the utility industry estimates a 30% annual loss rate of tools: i.e., upwards of $900,000,000 "lost" items annually? Cut down on theft and lost inventory by keeping a history of your item's current and last known locations.
Our customers say it best. "In the time that we've had ItemAware running, we've never had to buy another tool… if we reduce our tool loss by 20%, we could save millions."" – Current Customer, Anonymity Requested
Need to know where your trucks are located at all times? No problem. ItemAware gives you the flexibility to check the precise location of your trucks whether they are stationed in neighborhoods, driving across the country on highways, or anywhere in between. Tracking your trucks and equipment has never been so easy!
ItemAware was built with you in mind. We know that you don't have time to waste learning how to use complicated software. Our intuitive design and clear prompts reduce the learning curve. You and your team will be up and running in no time.
Always Scanning
ItemAware is always working for you! Our system is always on, reading tools continually. This means you know the current status of each item and you do not have to rely on workers to keep inventories current. This real-time data, made available by the use of geo location in the field, is an invaluable advantage that our competitor's software cannot offer you.
Inventory Management Simplified
Our cutting-edge software is automatic – meaning no user involvement is needed. Manual tracking and updating item information is both time-consuming and prone to human error, resulting in lost time, effort and money. ItemAware changes that story by automating the inventory process.
Time is money. Decrease your money spent and stay on track with your budget by lowering the amount of effort needed to track your inventory. Manual scanning significantly increases the number of employees you need as well as the amount of hours required to get the job done. Eliminate the burdensome task of scanning barcodes by letting ItemAware automatically – and accurately – do the job for you.
Did we mention that ItemAware is mobile-friendly? We know that you can't be stuck behind your desk all day – with ItemAware you don't have to be. You can easily swipe and view all item information on your mobile device without the hassle of being tied to the office.
ItemAware – The Inventory Management Solution You've Been Looking For
ItemAware is the exact technology you have been looking for to save wasted effort, time, and money spent on outdated processes. Let our software take the headache out of inventory management while allowing you the chance to focus on your most profitable goals.
We are here to help you. Get started today by requesting a free 30-minute demo with one of our knowledgeable representatives.
About the Author
Jessica Frye is an expert content writer with 7+ years of professional writing experience. She earned her B.A. in Communication Studies from Wright State University and has worked alongside companies in both the for-profit and non-profit sectors. Jessica is passionate about community and enjoys using the power of words to not only cause people to react but to take initiative.