ItemAware: The Multifaceted Asset Tracking Solution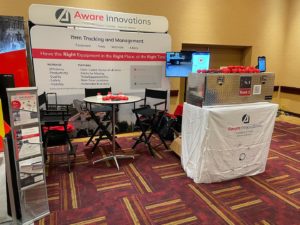 Aware Innovations would like to express our sincere appreciation to everyone who joined us at Work Truck Week in Indianapolis, Indiana. This one-of-a-kind event was a great opportunity to see our robust asset tracking software in action while learning firsthand the breadth of its application across many industries. It was our pleasure to meet so many interested patrons and show them exactly how our intuitive software can go to work for them.
ItemAware is the one-size-fits-all asset tracking solution that can be applied to a wide range of market sectors. Our robust, modern software has demonstrated measurable benefits for companies operating in the utility, IT, and medical industries. Cross-industry benefits gained by maximizing the utilization of ItemAware include significantly increasing productivity while simultaneously reducing costs.
Continue reading to learn how ItemAware's features can be maximized to promote operational efficiencies while cutting unnecessary expenditures.
Maps: Making Your Inventory Fully Visible at All Times
Having the right equipment, in the right place, at the right time is easier said than done. Manual inventory tracking is prone to human error and lacks the capacity to keep counts current in real-time. Our industry-leading asset tracking solution, ItemAware, automates the inventory process by giving you constant, easy-to-interpret access to the exact location of your tools, equipment, and materials.
With ItemAware's support, you can feel confident that your team will always have the tools and equipment they need to get the job done right the first time.
Automating Inventory Processes: Talent Shouldn't be Wasted on Menial Tasks
"Any diligent asset management process requires constant involvement from staff but automating the process with RFID requires far less of it." – Wes Clark, Office of the Chief Information Officer, US Patent & Trademark Office
You hired your employees for a reason. Each team member has the expertise your company needs to be profitable as well as maintain your status as an industry leader. When an employee isn't being fully utilized, they begin to become disengaged, and their productivity suffers. A study by Gallup found that disengaged employees cost their companies the equivalent of 18% of their yearly salary. This is a shocking statistic that is easily preventable with the implementation of our asset tracking solution, ItemAware. 
One of our customers, the Defense Logistics Agency's Red River Army Depot, reduced wasted personnel hours by 87% by partnering with Aware Innovations to track 23,000 military vehicles using cellular GPS. This use case proves that you can stop wasting manpower on tasks that can easily be handled by our intuitive asset tracking software. ItemAware automates the inventory process, taking the menial tasks off your employees' plates and allowing them to refocus their expertise on more profitable goals.
Choke Points: Prevent Misplaced Equipment and Theft
Replacing equipment that isn't actually lost can quickly cut into your bottom line while also being a barrier to productivity. This financial bleed is only further aggravated when theft inevitably enters the picture. ItemAware's constant scanning capabilities gives companies the ability to prevent item misplacement while also putting a permanent end to theft. When your employees have the equipment they need readily available, operational efficiencies increase as does revenue streams.
Companies are protecting their budgets by staying lean with the number of tools and assets they have on hand. Our intuitive asset tracking software allows companies to keep quantities right-sized by tracking real-time inventories, eliminating the cost of excess equipment.
Alerts: Never Wonder Where Your Equipment Is at Again
ItemAware gives you the freedom to set your own alerts, ensuring that you are always in the know whenever an item leaves or arrives at a specified location. Critical alerts promote employee accountability by forcing users to check items in and out, giving you a reliable record of who had what equipment last.
History: Because Record Keeping Matters
A log of an item's location, maintenance, and repair history is an invaluable resource. ItemAware conveniently tracks all of this data and more in a convenient, user-friendly format that can be accessed 24/7, saving you time on tedious record keeping.
User Access: Assign Permissions Exactly as You See Fit
Because no two jobs are ever the same, not every user needs to have the same software permissions. ItemAware allows you to decide who needs what access by giving you the ability to determine the capabilities of each user in the software.
Employees have enough data to sift through – they don't need to further fall into the trap of information overload. Setting the exact permissions for every users helps your employees increase their productivity by limiting their access to need-to-know information only.
Status: Notetaking Has Never Been So Easy
Even people with the best memories cannot be expected to recall all details at all times – especially when hundreds of pieces of tools and equipment are involved. Our intuitive asset tracking software allows users to view, edit, and take note of an item's current status. With ItemAware, you will never again waste time trying to remember which tools are broken, active, in storage, etc.
ItemAware: Your Answer to Increase Productivity While Decreasing Costs
Whether you are tracking tools, IT assets, medical equipment, or patients, ItemAware is your solution to productivity and cost issues. Our modern asset tracking software has multifaceted capabilities that can be tailored to meet your unique needs, no matter your work environment, while automating your inventory processes.
What are you waiting for? A better, more reliable solution to all of your asset tracking needs is just a phone call away.
Let's Get Started Today
We are here to help you. Get started today by requesting a free 30-minute demo with one of our knowledgeable representatives.
About the Author
Jessica Frye is an expert content writer with 7+ years of professional writing experience. She earned her B.A. in Communication Studies from Wright State University and has worked alongside companies in both the for-profit and non-profit sectors. Jessica is passionate about community and enjoys using the power of words to not only cause people to react but to take initiative.