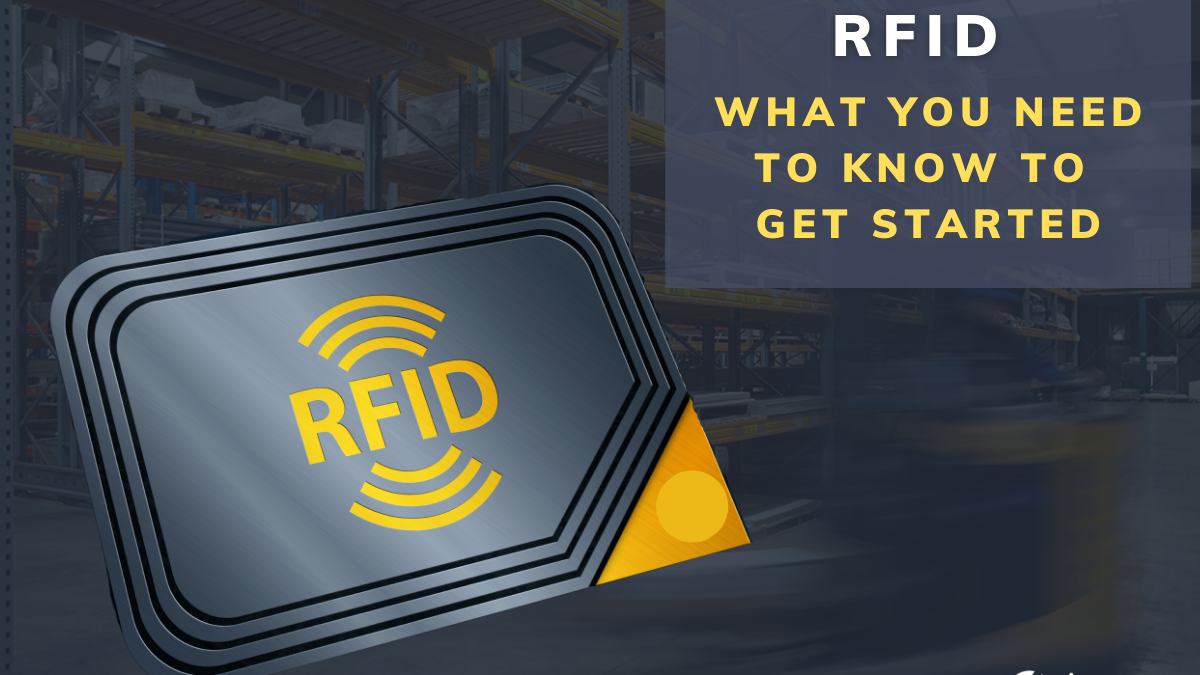 RFID – What You Need To Know
RFID, or Radio Frequency Identification, is a technology we're sure you've heard of by now. After all, it's ability to track item location and data provide endless benefits:
Increased supply chain efficiency
Reduced human errors in inventory
Eliminated cost of replacing lost or stolen items
Elevated security
And more….
It has numerous applications:
Companies and organizations have increasingly adopted this technology for the above benefits, and have additionally realized the advantage it provides in reacting to unforeseen events such as COVID-19. Subsequently, using RFID or another tracking technology is essential to remaining competitive in today's market.
But where do you start?
We've been in the industry a long time and provide a basic overview of RFID below so that you can begin your journey towards efficiency, lower operation costs, security and more. To see how RFID compares to other tracking technologies, see this article.
Radio Frequency Types
RFID functions on radio wave frequencies, which are measured within frequency bands: low frequency, high frequency, ultra-high frequency (such as RAIN RFID) and super-high frequency.  These terms refer to the wavelengths of the frequency – low frequency has longer wavelengths, which increase and shorten as the frequency gets higher.
Frequencies determine the strength and distance of the signal. Low frequency usually has a weaker signal and a shorter read distance but is less affected by disruptors to radio frequencies (such as liquid or metals). This is important for environments that may require RFID tags to interact with these substances. Higher frequencies promise a stronger signal and one that reads at a farther distance but is more sensitive to disruption from various materials1.
This table compares frequency bands and the technology used in each one: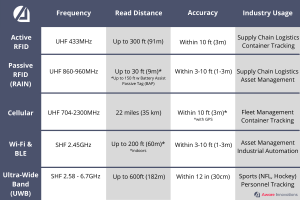 Predominant RFID
Within the world of RFID material handling there are two predominate technologies used; HF and UHF.  UHF is the most predominate of the two due to its long-read ranges.  HF is used when short read ranges are desirable (such as use cases requiring isolation) or when the laws of physics prohibit the use of UHF (such as tracking of items that contain large quantities of water).
For this article, we will focus on the UHF frequency band.
RFID System Components
RFID systems are always comprised of two primary components: a transponder (tag/label) that goes on the item being tracked and the interrogator (reader). These components work together to store data about an item's location, transmit that data and ultimately distill that data into usable information via a software application. Software apps, such as ItemAware, allow users to look up an item, see its location, and add additional data about the item (such as maintenance information, item history and much more).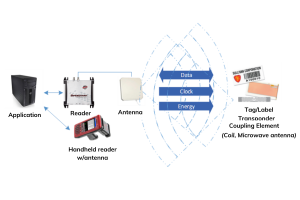 RFID Tags: Passive, Semi-Active, Active
RFID tags are placed on every item that is going to be tracked. Different types and sizes of RFID tags determine versatility for different environments, infrastructures, and cost thresholds. A main distinction between tags is the method by which power is supplied to them – determining if they are passive or active.
First, let's break down the types of RFID tags and how they work:
Passive RFID Tags are the simplest RFID tag, only containing an integrated circuit and an antenna. They do not transmit signals to readers, but rather engage when a reader sends a signal to the antenna. This is done through backscatter technology – without signals from the reader, the tag remains inactive. If the tag is located outside the reader's range, the tag won't have sufficient energy to send information to the reader. Because the tag does not contain a battery, they last indefinitely.
Semi-Active RFID Tags (also called semi-passive or battery-assisted passive (BAP) tags) communicate the same way that passive tags do – by receiving a signal from the reader. However, the semi-active tag circuitry is powered by a battery. The battery enables a longer read range than passive tags, but not as long as an active tag.
Active RFID Tags have their own energy supply, e.g. a battery or a solar cell, which is used to provide power to the chip and generate the RF signal for transmitting data to the reader.  Given that the strong electromagnetic field needed to power a passive tag is not necessary, the distance from the tag to reader can be significantly increased, yielding an increased coverage area for each reader. The battery typically lasts around 2-5 years before being replaced. Active tags can offer a longer read range – up to 1000ft / 304m – and are often used on items that need to be tracked over long distances.
Tags can be used on multiple items throughout their existence.
Tag Cost
The price of RFID tags considers the durability, frequency, volume of tags needed, etc. This means that there is not a straightforward price to share for each tag; however, passive tags are less costly than semi-active and active tags, and prices generally fall in these ranges (NOTE: prices do change based on the market, inflation, demand, etc.):
Active: Active RFID tags start around $25 / tag upwards of $100 tag.
Semi-Active: usually cost around $10-$25 per tag.
Passive: Passive RFID tags cost anywhere from $0.07 to $0.50 each
It is often assumed that passive RFID is the cheapest option on the market – and, when looking at tag price alone, this is true – but there are many factors that go into a final cost. Which means that what makes up your cheapest option depends on your requirements and the factors we continue to explore in the rest of this article.
Tag Sizes and Types
RFID tags come in a wide range of sizes. Active tags are generally larger because they have more components, while passive RFID tags can be as small as a grain of rice.2 Our engineers are continually engineering solutions that allow tags to affix to items properly so that they do not obstruct function and avoid being destroyed when an item is used. A recent example includes inserting a tag into a divot on a chainsaw for tool tracking, so that the chainsaw is tracked without risking damage to the tag during use. Another example is tamper-evident tags that are placed on weapons boxes. If the box is tampered with, the tag alerts users (like a security officer), increasing security and minimizing theft.
Since use cases are broad and tag options are numerous, it is best to talk to a professional to determine which tag is right for your situation.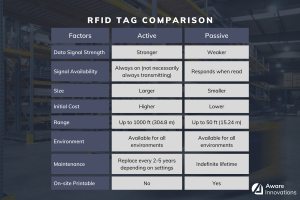 RFID Readers
Readers are essential for the RFID system as they send signals to tags and collect tag data. They fall into two main categories: fixed and mobile.
Fixed readers allow users to track items as they pass through chokepoints (such as entryways, stairwells, etc.). When an item passes through a chokepoint, the data is collected by the reader and communicates to the user that the item has moved from one location to the next. Fixed readers are the most expensive category of readers, but they also have the highest read range. A subset of fixed readers is an integrated reader which is often used in visible areas of indoor locations, because of its sleeker design.3
Mobile readers come in a variety of forms from a Mobile Computing Device that has an onboard computer, to a Sled that can fit on a person's mobile phone and transfer data through Bluetooth or auxiliary connection. Users walk through inventory and scan to read the tags in that location with handheld readers. These readers are usually more cost-effective than fixed readers and are especially effective when searching for a specific item in an exact location.3 Once again, the right reader is determined by use case.
Examples: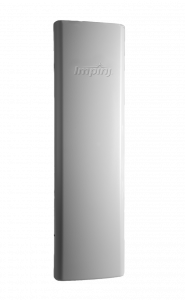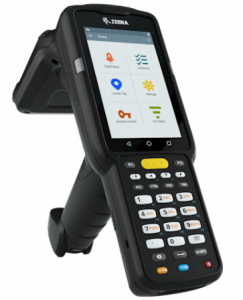 RFID Antennas
Antennas are another essential component of an RFID system, as they create the communication between the reader and the tag. Antennas are placed on both the reader (to send the signal to the tags) and on the tags that receive the signal (in turn transmitting the information that the chip is storing).
The signal strength between a tag and reader can be determined by the antennas, their size, polarity, and the degree of wave expansion as it leaves the antenna.4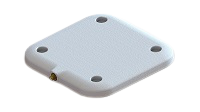 SummaryThere are numerous reasons that go into choosing a technology that's right for your needs: how a technology interacts with its environment, the current infrastructure, costs associated, if you need constant monitoring of an item, the value of the items you're tracking and much more. While research can give you an idea of what might be best for you, it's important to speak with a professional to make sure you are getting the best possible solution, with the highest return on investment. That's why we are a full-service asset tracking and inventory management company. We built our own software (to create the best features on the market) and we specialize in the integration of hardware and software so that you can go from "start" to "tracking" with one company. We also source all hardware for you with our hardware partners that we've vetted to be the best. Contact us today!
Additional Sources
https://www.rfidjournal.com/question/what-is-the-smallest-passive-rfid-tag
Authors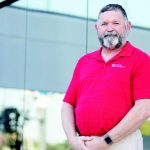 Bart Ivy, PMP
Bart is our Director of Automated Identification Data Collection (AIDC) and Radio Frequency Identification (RFID) Solutions. A retired Air Force Chief Master Sergeant and certified Project Management Professional, he handles your solution design. From defining technical requirements to deploying and sustaining your system, he ensures high-quality services that satisfy your needs. Bart is an expert in the industry and works with these technologies every single day. He's our go-to guy for information on deploying real-time locating systems.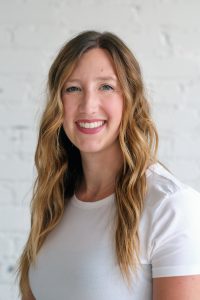 Elyse Cheatwood
Elyse is our Marketing Manager. With ten years in marketing and ever-increasing knowledge of the Automated Identification Data Collection (AIDC) industry, she creates research-driven content based on market trends, industry updates and tech insights from reputable sources (including the professionals she works alongside).