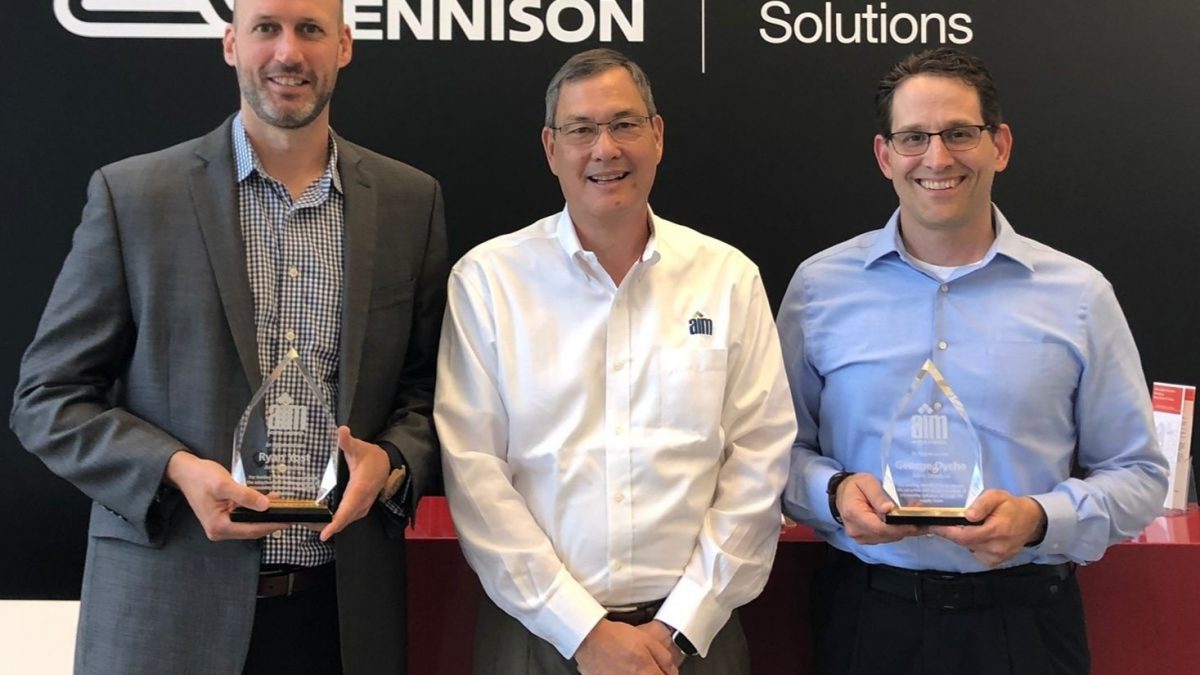 AIM Global Appreciation Awards – Avery Dennison
Friday, June 28, 2019
Chuck Evanhoe, Chairman, Board of Directors, AIM, Inc., Chair of ADC1, US Technical Advisors Group for ISO/IEC JTC 1/SC 31 & SC41, CEO Aware Innovations and Evanhoe & Associates presented Ryan Yost, GM Avery Dennison Printers Systems and George Dyche Sr Direction Innovation, Avery Dennison Printers System an AIM Global appreciation award.  Award winners are selected by AIM Global Board of Directors for their cross-industry leadership in raising the awareness and adoption of ISO AIDC standards.  The adoption of technical standards lowers the cost and risk of implementations while accelerating adoption rate, thus benefiting the community at large.  On June 28, 2019, the AIM Global Board recognized Ryan Yost and George Dyche in appreciation for their leadership in accelerating the adoption and implementation of traceability solutions through standards adoption in the supply chain.  AIM Global especially recognizes them for their support and commitment to the education of the food supply chain community of the importance of the adoption of traceability standards.
AIM Global  -The global industry association that connects, standardizes and advances automatic identification technologies   https://www.aimglobal.org/
Chuck Evanhoe – Chairman of Board, President & CEO Aware Innovations | Evanhoe & Associates, Inc. is internationally recognized as an expert in Automatic Identification and Data Capture and Collection (AIDC) technologies, a key enabler for the Internet of Things (IoT) and Artifical Intelligence (AI).  http://www.awareinnovations.com/
Ryan Yost – General Manager,  In his role, Ryan is responsible for worldwide leadership and strategy for the Printer Solutions Division, focused on building partnerships and solutions within the Food, Apparel and Fulfillment industries. https://printers.averydennison.com
George Dyche – Sr Director Innovation, George Dyche drives the innovation strategy for Printer Solutions Division, focusing on building growth through collaboration with our customers implementing a digital supply chain.  https://printers.averydennison.com
Click on photos to enlarge.