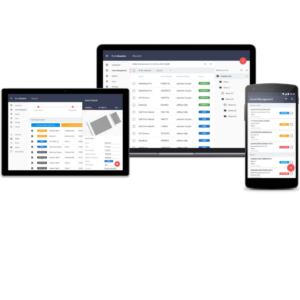 The increased cost of doing business has many companies searching for viable ways to keep their budgets in the black. From layoffs to project cuts, businesses are seeking creative ways to protect their bottoms lines. But what if there was an affordable way to invest in a technology that would automate processes without requiring cuts? And what if said technology could be adopted to not only save you time but also money? Continue reading to learn how our robust asset tracking software, ItemAware, will do just that and more.
To speak frankly, rising inflation coupled with maintaining competitive salaries is expensive. The COVID-19 pandemic further deepened financial woes by putting new levels of stress on the global supply chain, leaving many businesses still feeling the pressure of product shortages.  Reuters reported, "The U.S. supply chain is healing from early pandemic shocks that sent shipping costs skyrocketing and squeezed supplies of everything from toilet paper to pasta, but more than three years later, material shortages and hiring woes linger".
ItemAware Reduces Operating Costs
If you, like many other businesses, are experiencing the realities of these concepts, than you are likely searching for ways to cut costs while simultaneously increasing your operational efficiencies. ItemAware brings together innovation, technology, and automation to reduce your operating costs while giving you a significant return on your investment.
ItemAware may sound too good to be true, but trust us, it's not. One client, who requested anonymity, stated, "In the time that we've had ItemAware running, we've never had to buy another tool… if we reduce our tool loss by 20%, we could save millions." Could you imagine what this type of cost savings could do for your business? With ItemAware, worthy projects that seemed "out of budget" can now be put back on the table, allowing you to move forward with your most profitable goals.
ItemAware's Implementation Is Easier Than You Think
The thought of implementing a new technology can be daunting, especially when faced with the time constraints caused by an already overfilled calendar. That's exactly why our team of professionals at Aware Innovations work around the clock to ensure that you have the software in place when you need it most.
Adopting a new software doesn't have to be scary – we're here to help you every step of the way. Click here to watch a short video that highlights one of our customer's seamless experience both implementing and actively using our innovative asset tracking software.
ItemAware is at the Forefront of Innovation
ItemAware is technology agnostic meaning it can work with whatever tech is best for your requirements. Our team can help you determine which technology is right for your specific use case including Internet of Things (IoT), RFID, GPS, Barcodes, Ultra-Wideband (UWB), Bluetooth (BLE), or Wi-Fi.
"We may very well see the use of RFID expand once folks see how successful we've become in achieving our goals." – Tom King PMP, Office of Administrative Services, US Patent & Trademark Office
ItemAware's use of Radio Frequency Identification (RFID) tags is a particular area of innovation, ultimately offering a host of significant benefits for our customers. These benefits include, but are not limited to, an increase in supply chain efficiency, reduction in human error found in inventory counts, elimination of asset replacement costs, and an elevated level of security.
At Aware Innovations, we are a team of experts who designs, implements and sustains asset management and tracking solutions for enterprises of all sizes.  We stay at the forefront of innovation because we believe that you deserve an asset tracking solution that is proven to work every time.
ItemAware is Not Only Intuitive, But Also User-Friendly
An asset tracking solution is only beneficial if you and your team not only want to use it, but ultimately rely on it to get your jobs done faster. Antiquated software that's bogged down with hidden, unnecessary, and generally outdated features aren't worth spending your time or money on. ItemAware quickly changes this narrative because it's a platform that you will easily master and quickly depend on.
ItemAware's intuitive dashboard is just one of many user-friendly features housed within the asset tracking software. At the touch of a button, said dashboard instantly gives users a bird's eye view of all inventories in progress, assets, as well as alerts. This convenient screen will keep you up to date on your most important responsibilities. Ultimately, when time is not on your side, ItemAware always will be.
You've got an important job to do – one that doesn't always have you stationed at your computer all day. That is exactly why we designed ItemAware to be mobile-friendly, allowing you to access this modern software on your mobile device. ItemAware will always be working for you, wherever you happen to be.
Click here to learn more about ItemAware's user-friendly features.
ItemAware Eliminates Antiquated Manual Processes
We've said it before and we will continue saying it – manual inventory counts lack accuracy. Essentially, when employees are responsible for manually scanning items, human error is inevitable. This reality doesn't have to be one your company faces. Invest in ItemAware to gain the confidence you need to know that your inventory counts are nothing but accurate.
ItemAware's asset tracking software has GPS functionality, eliminating the need for manual inventory processes. Our modern technology is always scanning automatically, giving you exact GPS coordinates of the last-seen locations of all of your tagged assets. With ItemAware on your side, you will never again be left worrying about the correctness of your inventory counts.
Operational Efficiencies are Worth Investing In
We get it – your budget for implementing new technologies may be tight, meaning you need to be picky on what upgrades you ultimately spend time and money on. But, after reading this blog, we hope that you now understand exactly why ItemAware is not a luxury – it is an investment in your company's future.
Are you ready to partner together to increase your company's operational efficiencies? Get started today by requesting a free 30-minute demo with one of our knowledgeable representatives.
About the Author
Jessica Frye is an expert content writer with 7+ years of professional writing experience. She earned her B.A. in Communication Studies from Wright State University and has worked alongside companies in both the for-profit and non-profit sectors. Jessica is passionate about community and enjoys using the power of words to not only cause people to react but to take initiative.